DAO Governance Structure Upgrade
Authors: @kempsterrrr @Erik_Knobl @ntindle
Previous discussions:
Discord: Minimum Viable DAO, Stewards Revision, Various DAO Coordination Calls (see meeting notes)
Summary
This proposal establishes the following:
Governance Role Definitions, Responsibilities and Rewards: Member, Contributor, Steward
Governance Structure: DAO, Foundation, Sub-DAOs
Funding Process and accountability mechanisms for Sub-DAOs
Motivation
As highlighted and discussed in the forum post "Can we build a better game", whilst we have achieved a lot we can be proud of during Season 1, we've also realised several challenges with our current model.
To be successful over the long term and have a serious impact on the Developer DAOs mission, we need the Governance and organisational Structures in place for Contributors to more freely create value for the DAO, its Members and the ecosystem, as well a more equitable and fairer distribution of resources and value.
Guilds, Projects, Operators and the creation of the Foundation got us part of the way there; however, our current structures have the following limitations:
During Season 1, Guilds, Projects & Operators helped us bootstrap core DAO operations and discovered our "business model". However, they failed to serve the vast majority of members who are not Contributors to the DAO itself. It also failed many important Contributors who were not fairly rewarded in Season 1.
Given we're a social space first, intermingling day-to-day Operational and Financial challenges with the Member experience in the DAO has distracted us from our core mission and made the Member experience less enjoyable.
Governance needs to be simplified. We have far too much happening at this layer when we should push activity, value creation and decision-making out to the edges.
The Foundation structure, jurisdiction and legislation associated with it limit what those building the DAO can achieve; challenging to create financial infrastructure (bank accounts, eCommerce payment rails like Stripe etc.) and participation in market activity related to the $CODE token and accepting outside financing.
This proposal addresses these challenges by replacing our current Governance roles (Conitrutors and Operators) and Structures (Guilds, Projects and Budget Stewards) as defined below.
Scope of Work
Governance Roles
Member
Contributor
Steward
Holds >= 1 $CODE token

Only accountable to the DAOs Code of Conduct.

Votes in Governances proportional to $CODE holdings.

Not rewarded directly for their role but provided opportunities to realise value for their Membership.

All member criteria plus \ \ Dedicates time/expertise to the DAO, Foundation or a Sub-DAO.

Accountable to the Code of Conduct and Sub-DAOs' processes for hiring and rewarding contributors.

Rewarded by Foundation or Sub-DAO for their work.

All member criteria plus \

Elected Members and Nominated Foundation & Sub-DAO Contributors.

Helps to steer the DAO via elevated Governance responsibilities and Coordination.

Rewarded directly by the Foundation for their roles.
An expanded explanation of each role can be viewed below:
Member

Members are the majority of folks in the DAO. They participate as "Players" in the game (DAO Experience) that is "Built" by Contributors.

As per the Foundation's ByLaws, anyone with at least 1 $CODE token is a member of the DAO, meaning they can vote in Governance. Membership of the DAO is not equivalent to access. For example, Members are required to hold >= 400 $CODE tokens OR a D4R NFT to access our discord community. This can be changed via DDIP or any authority delegated to a Sub-DAO via DDIP.

Voting power in Governance scales linearly based on the number of $CODE tokens held. For example, someone with 1 $CODE token has 1 vote, and another persona with 100 $CODE tokens has 100 votes.

Members have no accountability to the DAO beyond adhering to our Code of Conduct.

The image below illustrates a possible Member experience under this model.
Contributor

Members who want to dedicate their time and expertise to the DAO, helping it achieve its goals and its mission to accelerate the education and impact of a new wave of web3 builders.

Contributors work for the Developer DAO Foundation or Sub-DAOs (defined below). Sub-DAOs are atomic units in the DAO and have independent processes for hiring and rewarding Contributors, to which Members must adhere to become a Contributor.

Where Contributors work for the Foundation directly or for a Sub-DAO that has yet to form a legal entity, they must sign a Contributor Agreement with the Foundation.

The image below illustrates the Contributor experience.
Steward

Stewards are elected Members as well as the nominated Developer DAO Foundation Director who help "Steward" the DAO via elevated responsibilities in Governance.

Stewards replace the "Governance Allowlist" as currently defined in DDIP. Every Steward has the right to elevate proposals to binding Snapshot votes that successfully achieve the required elevation criteria defined in DDIP. Obtaining this right, therefore, also moves away from holding a specific number of $CODE tokens defined in DDIP to being appointed a Steward via Election processes defined below.

This active participation role is responsible for steering the DAO to ensure it is working towards its stated mission. Stewards must sign a Contributor Agreement with the Foundation detailing the role and rewards defined below.

Objectives of the Stewards

Keep track of ongoing Governance Proposals
Ensure Governance Proposals follow templates and guidelines
Review, comment and suggest improvements to inflight Governance proposals
Identify and triage overlaps and conflicts in Governance proposals
Coordinate activity between the Sub-DAOs
Define the DAO's Seasonal (Quarterly) strategy, including setting DAO-level OKRs
Reviewing DAO and Sub-DAO performance against agreed OKRs, deciding on suitable action if Sub-DAO's agreed deliverables are not being met.
Define DAO-level Treasury Strategy (any DAO Operational / Foundation costs, Treasury assets available for budget requests).
Review and decide on ad-hoc funding requests made during a Season.

Responsibilities

Stewards commit to 2 - 4 hours per week for reviewing and attending Stewards Council Meetings and performing their Steward duties as defined below:

Community Elected Stewards will be signers on the DAO Treasury
Attend fortnightly Stewards Council (min 4 out of 8 per season)
Arrive with pre-reading complete (when sent > 24 hours in advance)
Give Substantial feedback to min 2 DDIPs per Season
Provide input to relevant forum discussion
Bring relevant topics for discussion to Steward Council meetings
Act as moderators for CoC & Violation process being defined here (Procedure 1). )Note: Stewards may be replaced as moderators depending on the outcome of that proposal).

Stewards Council Meeting

The Stewards Council Meeting provides the space and conditions for higher-stake cross-DAO decisions to be vetted and discussed, enabling the DAO to efficiently and responsibly fulfil its mission. The council is responsible for sensemaking and strategic direction and acting as a decision-making body for DAO-Level topics. (Those that sit outside the Foundation or Sub-DAOs.)

The Stewards Council meets weekly on Thursdays @ 4 pm UTC.

The Stewards council is an action-orientated session where Stewards seek to make decisions on pre-determined Agenda Items. Whilst some discussion is welcomed during the meeting, most should happen on the forum.

Every meeting must have a designated facilitator who keeps the meeting on track.

The nominated Foundation Steward will perform this role for the first Steward Council of each Season. After that, this role will rotate, with the next meeting's designated agreed upon by the Stewards at the end of the previous session. If no facilitator is chosen, it falls back to the last chosen facilitator.

The facilitator must share the agenda > 48 hours before the meeting using this template. Any Steward can add items to the Agenda using the format defined in the same template.

The facilitator should add agenda items to a Slido ahead of the meeting and share this with Stewards attending to prioritise points for discussion at the start of the meeting.

Items not included on the Agenda before the meeting can only be discussed after the agreed agenda has been covered. Agenda items not covered are automatically added to the next meeting to be re-prioritised using the method outlined in the previous paragraph.

Meetings are restricted to the Stewards to ensure efficient decision-making and take place on Steward's dedicated voice channel. Notes and audio recordings must be shared on the forum with Members by the meeting facilitator, including a record of any decisions and actions taken.

Decision-Making

Stewards are encouraged to discuss topics asynchronously as much as possible and only bring discussions to the Steward Council when there is a decision to be made following the format laid out in the meeting template.

Decisions during the Steward Council are made optimistically, facilitated by the meeting's designated facilitator using the following format:

Steward requesting a decision spends no more than 2 mins explaining the Agenda Item and the suggested course of action.
If no one is present on the call objects, their suggested course of action is recorded.
If any Steward objects, the facilitator puts forward a 48-hour vote of the Stewards via discord Poll restricted to the Steward role with the following format:

For
Against
Requiers more discussion

Where the vote "Requires more discussion", a thread should be opened in the Stewards discord channel for this topic, or a separate call should be organised. The point should be brought back to the Stewards when a decision is ready to be made.
Where there is a tied vote, the vote defaults to Against

Accountability

Stewards are accountable to Members on a Seasonal basis via Elections.

Any member can track Steward's engagement in Governance discussion on this forum here and on snapshot via https://snapshot.org/#/profile/stewardswalletaddress to help them make informed decisions about supporting an existing Steward in future elections.

Elections

Before the start of each Season, a maximum of 10 Stewards are elected via DDIP.

A proposal is made by the sitting Stewards, which outlines the responsibilities and rewards for Stewards as defined in this proposal and invites any Member to nominate themselves as Stewards.

Nominations are made as comments to the DDIP Proposal with the following format:

Discord Username + Forum Username
ETH address (where $CODE tokens are held)
Statement of Intention / Your Values & Reasons for Joining
Qualifications.
Governance Record (lin/screenshot of forum stats)
Snapshot voting record (link/screenshot of snapshot profile - Snapshot)

After five days of nominations, the election is moved to a Snapshot vote with a Weighted Voting strategy that allows members to allocate a % of their total vote across all nominated Stewards.

A maximum of 10 Stewards will be elected from this vote.
To be elected, Stewards must receive at least 1 vote.
If there is a tie between 2 or more Stewards for the 10th place, a repeat vote must be held with *only *those tied for the 10th place.

Term length & limitations

Stewards serve for 1 Season at a time, with re-elections required before the start of each Season. There is no limit to how many times a Steward can be re-elected.

Compensation

Stewards are compensated in $CODE for the equivalent of the maximum number of suggested hours they might serve as a Steward multiplied by the current defined hourly rate of 15 $CODE.

8 weeks X 4 Hours X 15 $CODE = 480 $CODE Per Season.
Governance Structure
Members Govern the DAO via DDIP.
This proposal establishes a new Governance Structure by replacing our existing Budget Application process with a new process for forming Sub-DAOs via DDIP.
It also re-clarifies the Foundation's role in Governance.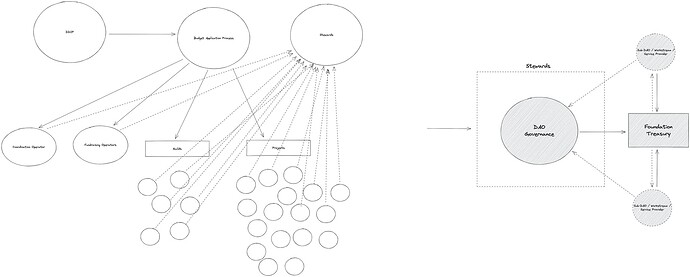 Old Structure
New Structure

Too many budget requests (19)
Overlap in responsibilities
Slow & unclear decision making
Challenging to coordinate
Unfair rewards structure

Simplified Governance structure
Clarifies Governance roles
Clearer pathways for contribution
Operational decision making pushed to edges/nodes (Sub-DAOs)
Clarity on funding terms for external entities
The Developer DAO Foundation
The DAO (and therefore its Members) are represented in meatspace by The Developer DAO Foundation, a non-profit entity limited by guarantee with no beneficial owners.
The Foundation has three directors; one community director (Kemp) and two professional directors from Leeward Management. The directors must enact the Members' will as determined via DDIP and follow this unless they are compelled to violate the Foundation's Articles, ByLaws or any other laws applicable to the Foundation.
You can read more about the formation of the Developer DAO Foundation here.
The Foundation directors must nominate at least 1 Steward each Season to provide the required context to the DAO on the legal implications of DDIPs on the Foundation.
The Foundation has a yearly budget of $50,000, which covers the ~$35,000 yearly fee to Leeward Management plus some headroom for operational costs (i.e. legal, banking).
Any further funds required by the Foundation must be requested via the Stewards.
Sub-DAOs
A Sub-DAO is an entity or group of Contributors delegated responsibility for a Domain of Operations by Members via DDIP.
Sub-DAOs are the atomic units of how Developer DAO advances its mission. As such, ratifying Sub-DAOs sets boundaries on what is and isn't in the scope of DAO governance.
Any Member may start a Sub-DAO and gather momentum by posting on the forum. Until a formal proposal for a budget is made and accepted, this Sub-DAO is considered "draft".
A Sub-DAO can be as broad or narrow as its initiators like, but Sub-DAO proposals must satisfy the following criteria or risk being removed by Stewards:
Have a clear objective that aligns with the Developer DAO's mission.
Distinguish itself from or explicitly state its improvements on any existing Sub-DAO
Propose clear budgets and timelines for producing intended outcomes
Have a multi-sig setup with at least 3 signers
Sub-DAOs can have the following states:
| | | |
| --- | --- | --- |
| State | Description | Considerations |
| Draft | Being discussed but no proposal made | NA |
| Proposed | Formal proposal made to Governance | Being discussed on the forum or voted on Snapshot |
| Active (Foundation) | Proposal accepted but operating via the Foundation | Contributors sign contributor agreements directly with the Foundation that includes OKRs and rewarded for work. Must adhere to its processes for contracts, invoicing etc. |
| Active (Own entity) | Proposal accepted and has a separate legal entity | Entity operates independently but has SLA/Contract with the Foundation that includes agreed OKRs and financial relationship. |
| Renewed (both states) | Proposal renewed for following Season via DDIP | As above |
| Archived | Sub-DAO removed of responsibility for Domain of Operations by Stewards or Governance | Contract with Foundation made null and void. |
More details on Sub-DAOs can be expanded below:
Formation and Funding Process

Sub-DAOs are formed via DDIP using this template.

A Sub-DAO that desires funding must apply for that funding by making a Proposal before the start of any Season or a call for Funding Proposals by the Stewards.

Sub-DAO Proposals to the DAO can request funding from the Foundation's Treasury in $CODE or any other assets. The Stewards determine the treasury funds available for funding requests before each Season or specific call for Funding Proposals.

$CODE Rewards are calculated based on an hourly rate of 15 $CODE/hour. This can include both the work being completed by Contributors and rewards/grants for Members as part of the experience being provided (i.e. $CODE rewards for writing a blog).

Sub-DAOs define their processes and reward structures that are independent of DAO Governance. They are encouraged to set these processes and structures before work begins, clearly stating who gets paid, how much, for what, and how disputes are managed.

Sub-DAOs that sit outside the Foundation (have a separate legal entity) can seek other funding sources, whether or not the DAO has funded them. They are also free to provide services and form partnerships with other organisations unless otherwise agreed upon during the DDIP process.

Sub-DAOs are encouraged to be self-sustaining and not rely on ongoing DAO funding to maintain their operations. However, any Sub-DAO may continue to request $CODE budgets to reward their Contributors and to provide rewards to Members as part of the service they provide to the DAO.

All funding proposals must include "Domain of Operations", "OKRs", "Budget Request (Inc value returned to the DAO", and "Team" in the Scope of Work section in their DDIP Proposal.
Domain of Operations

Sub-DAOs should clearly state the main "domains" of work they will cover on behalf of the DAO. Sub-DAOs should indicate how their experience makes them suitable for specific domains or domains.

Examples of domains include (but are not limited to) the following: Events, Jobs, DevRel, and Consulting. Whilst some overlap might occur across Sub-DAOs, we don't recommend overlapping too much since work can become redundant in those cases. In some instances, it might make sense to have overlapping Sub-DAOs, such as multiple D_D Merch shops focused on different areas worldwide.

Suppose a Sub-DAO aims to cover a domain already occupied by another Sub-DAO. In that case, the newly proposed domain will have to clearly state how their work is either an improvement on the current Sub-DAO or will target a different field within that domain. i.e. D_D Merch shop focused on Asia.
Sub-DAO OKRs

As explained above, the Stewards define the DAO OKRs.

Sub-DAOs must demonstrate their OKRs in their funding proposal, including how they will help the DAO achieve its higher-level OKRs. This is to keep the DAO "on mission", not restrict value creation for the DAO via bureaucracy. As such, whilst the proposal authors are encouraged to share details of their plans, they should intentionally leave flexibility to innovate and adapt to achieve their aims.

Finally, an overview of how requested funds will be spent to help achieve their OKRs must be included in the Proposal. If a Sub-DAO requires additional funds before the end of the funding period, a request can be made directly to the Stewards.
Accountability Mechanisms

We must ensure that any Sub-DAO representing the DAO or serving its Members continues to be aligned with our mission, values and goals to maintain this privilege.

As such, Sub-DAOs must adhere to the following accountability mechanisms:

Sign an agreement with the Foundation (see states table above)
Monthly update the forum at least 48 hours before the last Stewards Council of each Month

What has been done this month, including performance against agreed OKRs
Plans for next month against agreed OKRs
Reflections

At least one representative attends monthly Town Hall

An opportunity for the community to ask questions and provide feedback about certain aspects of the Sub-DAO and its operations

Seasonal

Re-apply for funding showing performance against pre-defined OKRs, accountability expectations
Participate in any relevant DAO-wide Retrospectives as determined by the Stewards

Stewards are responsible for reviewing Sub-DAO performance and deciding on the necessary action to take if a Sub-DAO, or it's Contributors, are not delivering what has been agreed.While corrective action is first encouraged, Stewards ultimately have the authority (via majority vote) to withhold further funding or terminate agreements if Contributors or Sub-DAOs are in breach of the agreed terms.
Coordination between Sub-DAOs

Coordination between Sub-DAOs will happen during the weekly Coordination Call. At least one Contributor from each Sub-DAO must attend this meeting at a min every fortnight and arrive prepared with an update on their progress and any requests for action.
Drawbacks
This is a far-reaching proposal that makes significant changes to the DAO structure. Whilst a lot of time and energy has been spent debating and discussing the contents of this proposal, it will ultimately be an experiment in Coordination to get it right.
The proposal explicitly seeks to limit the need for DDIP for operational decision-making by delegating specific responsibilities to Stewards and Sub-DAOs.
Next Steps
Once the required number of Governance Allowlisted members have commented on this proposal, it will be elevated to Snapshot with the following options:
If this proposal passes in the affirmative, the following steps will be taken:
The breakdown of DDIP and Proposal template on the Governance forum must be updated to reflect changes in this proposal (Kemp)
The breakdown of the DDIP on the home page of the DAO wiki must be updated to reflect the changes and included for consumption during onboarding (Kemp)
Stewards Elections are held in the first month of Season 2.
The Coordination Operator will seek advice on the legal agreement between the Foundation and Sub-DAOs, which have their entity for Stewards to review