Authors: @kempsterrrr @wolovim @willblackburn @dabit3 @Erik_Knobl @with-heart
Original draft:
Summary:
Our community has grown fast.
We're now counting ~2900 genesis NFT holders (4600+ minted) and > 1700 passionate builders have joined the DAO discord server.
This includes multiple Protocol Foundation team members, Web3 Founders, major open-source project maintainers, Web2 community leaders, and many more other talented and passionate people excited by learning about, and building on, Web3.
Teams have formed around projects, individuals have launched something like 10 different tools for the community and the support we're giving each other, re: learning and collaboration, is invaluable.
We're already in discussions regarding collaborations and potential treasury allocations with a few other DAOs and organizations, including Gitcoin and a new DAO being formed by the founders of Decrypt, among others.
It's exciting and the potential is obvious to see, but how do we move forward from here?
This proposal provides full scope for the idea of Seasons, establishing our initial DAO Structure and provides guidelines for Governance.
Developer DAO Season 0
What is a Season?
A discrete period of time for DAO members to come together to align on projects and initiatives that help us deliver on our mission, values, and goals.
Objectives for each future Season must be defined up front (process TBD) and, prior to ending a Season, a retrospective must be carried out to ensure we can learn and improve (process TBD).
Details for Developer DAO Season 0
The Developer DAO Season 0 vote will be done using Snapshot with each Ethereum wallet that holds any number of DEV tokens receiving one vote. Season 0 will start on the passing of a Snapshot vote for this proposal and last for two months with the option to extend for one further month via another Snapshot vote.
Objectives for Season 0
Ratify our mission, values, and goals. (snapshot vote ).
Implement and refine the DAO Structure and improve external and internal on-boarding processes for joining the DAO and contributing.
Implement and refine the Governance process and guidelines for community decision making.
Research and propose options for $DBUCKS token issue & DAO legal structure (if required).
Create space for bigger picture conversations about the DAO and identify Core Projects we want to back as a community through into Season 1.
Plan Season 1 launch event with partners.
DAO Structure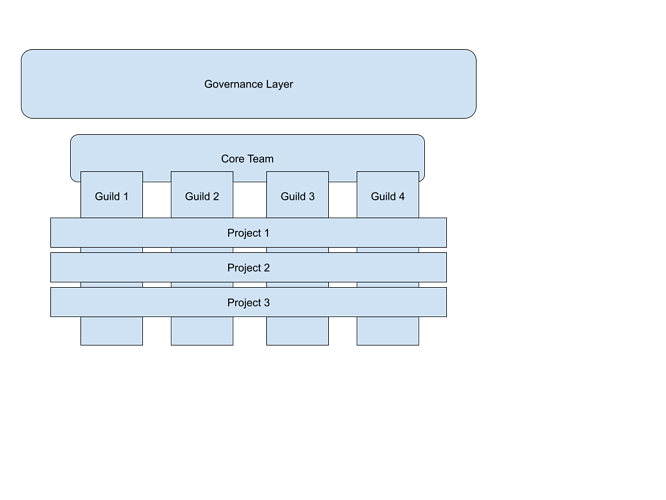 The DAO structure consists of a governance layer, a core team, and our guilds. Projects are worked on by pulling resources from guilds.
During the course of Season 0, Discord will be reconfigured to reflect this structure.
Governance Layer
The Governance layer is not a team. It represents how the DAO will make decisions that require a "hard consensus" from the community: funding/budgets, changes to governance rules, etc.
Please see the Governance section for more details on the process.
Core Team
The closest thing we have to a full-time team, staffed by Guild "Leaders". They are responsible for initial organisation of the guilds and implementing the tooling, infrastructure and processes required to operate successfully as a DAO.
For Season 0, we have proposed six guilds and their leaders (below) based on existing contributions to the DAO. This suggestion is not a permanent setup, but allows us to move forward. Core Team roles, how guilds are established, and how Leaders are "elected" will be refined in the community via our Governance process during Season 0.
Core team Season 0 Objectives:
Deploy DAO Treasury, fund with initial capital, and produce proposals for further funding (internal/external).
Implement DAO Structure for Season 0. This will be refined moving forward by the Community Guild moving forward based on feedback from members.
Implement Governance for Season 0: to be refined during going forward by the Governance Guild
| Guild | Leader |
| --- | --- |
| Community | kempsterrrr |
| Design | Eknobl |
| Developer | Mark (with-heart) |
| Writers | Marc |
| Governance | Will Blackburn |
| Marketing/Biz-Dev | Nader |
Guilds
Guilds are the DAOs most important resource - skilled labour.
Each guild will represent a group of members with shared skills, expertise, and interests who self-organise their working practices and on-board new members.
For example, the Design Guild may create standard DAO brand guidelines and assets, whereas the Writers Guild may want to create templates to aid writing or develop a way for the DAO to capture and organise ideas.
Beyond on-boarding and setting some standing working practices, some guilds (i.e. writers) will have consistent outputs (i.e. newsletters/articles) and others (i.e. design/dev) will act as resource pools for DAO projects to draw talent from.
For Season 0, guilds will initially have no defined hierarchy beyond its "Leader" as proposed above.
Guilds at genesis for Season 0:
Community Guild
Refine external on-boarding (content of public channels) to make it clearer for potential new members how they can join the DAO.
Refine internal on-boarding into guilds that makes it easier for members to get up to speed and find their path to learning, collaborating and contributing.
Update and refine the DAO Wiki in line with changes in the DAO.
Ensure community is kept up to speed via Town Hall and weekly DAO newsletter.
Developer Guild
Decide on best way to organise developers within the DAO (i.e. do we break down into separate/sub guilds for specialties, like Smart Contract Devs vs. Front End devs)
Create on-boarding experience to understand new devs skills/level, find suitable learning resources and opportunities to collaborate on community projects or contribute to the DAO.
Design Guild
Kick off process to fully define the Developer DAO brand, and create guidelines and assets for use across projects/guilds.
Create on-boarding experience to understand new designers skills/level and find opportunities to contribute to collaborate on community projects or contribute to the DAO.
Use finalised branding to create designs for Develop DAO merch.
Writers Guild
Specify content types and platforms where each content type will be published (e.g., mirror.xyz, dev.to, developerdao.com, etc.) and establish presence there.
Create on-boarding experience for new writers, methods for taking content idea submission, distributing writing work, and managing the content pipeline.
Governance Guild
Refine process for making proposals in the DAO, including clarity on what needs to be a proposal, threshold for a proposal to be made, and level of consensus required for different types of proposals.
Setup and manage tooling for governance process.
Improve documentation around governance process & tooling use.
Marketing/Biz-Dev Guild
Refine process for publishing across social media channels.
Seek and establish partnerships with other DAOs and Web3 organisations.
Lead on organising a launch event, including sourcing speakers and sponsors.
As a community, we'll address the process for creating further guilds during Season 0.
Projects
Projects are groups of DAO members who are organising around specific goals. Some projects will naturally operate within a single guild, while others may require cross-guild collaboration of resources.
As outlined in this post from @willblackburn, to be successful as a DAO we need some focus.
During Season 0, we will be calling on the community to propose further "Core DAO Projects" that are in line with our mission, values, and goals, taking a vote to choose those to focus on through into Season 1.
That said, many of us are here to build shit. Whilst we figure out official DAO Projects, we encourage community members to pitch and collaborate on ideas and the DAO will support them as best it can.
For existing projects, we're proposing the following goals for Season 0 (TBD):
Derivatives
Launch Pixel Avatars Project to DAO members.
Brainstorm and propose other derivative NFT projects or other ways we can incorporate the metadata from genesis NFTs into future projects or partnerships.
Website
Their primary objective during Season 0 is to build and launch V1 of the website with a structure and content that helps the DAO deliver on its mission, values, and goals. This potentially includes the following:
Landing Page that gives high-level overview of the DAO and encourages people to take action (join, check out projects, Learn Web3)
Projects page(s) that primarily highlight ongoing DAO projects, but also provides some visibility for member projects created in/for the DAO/its members.
Contact or partner with us section/page.
Resource Base
Deploy, refine and improve Airtable resources system with the community.
Build automated GitHub actions scripts for generating markdown repo based on collected resources.
Build Discord Bot to make contributions to the resources based much easier for the community.
Governance
Our governance mechanism will continue to evolve through community input and community-lead proposals. It is important that proposals can be created by anyone in the community from the beginning. It is also important to note that decentralized governance is a spectrum, and our governance and the strategies used to execute consensus will become more decentralized over time.
Taking inspiration from Bankless DAO, the following initial governance flow is proposed:
Conversations → Brainstorming → Proposals → Consensus → Execution
Conversations: Discord
Brainstorming: Discord + Discourse
Proposals: Discourse
Consensus: Snapshot
Execution: Discord
Conversations & Decision Making
Most conversations and decisions will not require proposals and consensus voting. Internal project or guild decisions (e.g., how to organise project work, on-boarding, etc.) do not require broad community consensus (formal vote), just consensus within that project or guild in a way they deem appropriate (e.g., Discord or Discourse polls).
Proposals & Consensus
Decisions that impact the DAO and the community (e.g., use of the DAO brand publicly, funding support, changes to Governance, DAOstack, partnerships, etc.) should be scoped out in detail (following Governance flow above) before committing resources, then should be proposed on Discourse using this template.
The first important intended output here is achieving a quorum. If the Core Team, a guild, project or any other group/individual want to make a change that impacts the wider community, they should seek the support of the community before moving ahead with their idea.
The second important outcome is ensuring ideas that reach the proposal stage have been properly scoped and discussed before the community is asked to back them.
Any group can create a proposal, but please bear in mind the points above and in this discourse post. The more we move forward as a community with focus, the further we will go.
For a proposal to be accepted on discourse, it must meet the following criteria:
Identifies champions (at least one) responsible for executing the proposal
Highlights evidence of discussion/brainstorming leading up to proposal
Helps us deliver on our mission, values, and goals
Has a clear timeline for delivery and measurable indicators for success
Specifies resources/tooling/changes required
Carefully considers wide impact on DAO
Reaches a voting threshold for moving to Snapshot
Has clear next steps for implementing if the vote passes
The Governance Guild will moderate posts made to the "Proposal" category to make sure they meet this threshold and support people where needed.
Governance & Season 0
The proposed governance process outlined here will be revisited by the community in Season 0. While it is important to launch with a clear process for anyone in the community to create a proposal leading to a DAO vote, we anticipate another more in-depth governance proposal. This proposal will likely answer outstanding questions such as what issues require a proposal, how we should handle voting power with the various strategies available to us, and so on.
Rewarding Contributions
Building in mechanisms to reward contributions is fundamental for operating successfully as a DAO and therefore delivering on our mission, values & goals.
The plan is to eventually provide every contributor rewards via our governance token, $DBUCKS, a key goal to deliver a proposal for this Season.
In order to reward people during Season 0, we're proposing a system based on POAPs and NFTs for attending community events and/or contributing to the DAO in many different ways (suggested structure below).
These rewards will also play a role in our initial $DBUCKS token allocation as to reward early contributors to the DAO.
Reward Structure:
FOUNDER POAPS (Voting on Season0 proposal)
TOWN HALL POAPS (One for each town hall attended)
SCRIBE POAPS (One for each article for the DAO.)
BUILDER POAPS (One for each participation in a DAO project. Team leaders need to confirm).
EDUCATOR POAPS (One for each 2 contributions to the resource base)
DIPLOMAT POAPS (Making connection with another DAO/organisation)
Next Steps for this draft proposal
This vote will run until Sunday pm.
If the vote passed it will be elevated to a Snapshot vote runs until town starts on Friday 12th @ 5pm UTC
Next steps in snapshot vote passed
Update Discord to match Guild Structure
Migrate info from proposal to DAO Wiki as soon as deployed
Announcement post from DAO Mirror
Properly scope existing projects
Onboard members into guilds
Move to snapshot
Support but request changes (please comment)
Full rework (please comment)