RFC: Formalizing our Developer DAO Operations Team
We're posting this to the forum after incorporating a lot of community comments, and we're looking for more comments and support and alignment so we can move our DAO forward together
This text will be elevated to a formal proposal after another comment period - the request for votes at the bottom of the text is included here for completeness.
---
This is a concrete step forward in following through with our official community Season 0 roadmap: P3: Developer DAO Season 0
At the top level, the Ops team handles challenges that are common across guilds and across the DAO. The Ops team is not a top-down control structure, but exists to help and support our guilds and members.
Why an Ops team:
Large operational DAO challenges were previously the responsibility of individual guilds, or the founding team, or unaccounted for, and bringing them together allows us to move forward effectively without confusion and diffusion of responsibility. Many processes are currently blocked, and formalizing the Ops team will help us get unblocked.
Purpose of the operations team:
Support and enable members and contributors to successfully execute on Developer DAO's mission by putting in place and maintaining operational systems and structures.
Responsibilities of the operations team:
Coordinate to harmonize initiatives and reduce duplicated efforts across DAO guilds. ( e.g. Onboarding efforts, tooling setup, comms announcements, etc. )

Actively maintaining context across the DAO by having an Ops team member attend guild weekly calls and liaise with guild leaders.

Coordinating guilds to find, focus, and execute on specific season and period priorities.

Helping to tame and manage common DAO infrastructure, like the governance forum (getting sign-in-with-ethereum and restricting posting to DAO members) and the Discord server (streamlining the Discord server experience will not be simple or quick or easy!) Notion, bots, calendars, etc.

DAO onboarding and offboarding policies and procedures, including empowering people to take on suitable roles within the DAO. This is going to be a HUGE effort and critical to our success as we open the floodgates to new members.

Legal and accounting policies and procedures, and owning relationships with compliance professionals working on behalf of the DAO (Accountants, Lawyers, etc). This includes defining budgets processes, contributor rewards, and treasury management and putting appropriate plans through our community governance process.

Safeguarding DAO and member capacity to prioritize execution and prevent burnout. ( eg scheduling 1-on-1 priority and cadence setting calls with contributors, coordinating guilds around DAO season priorities, recruiting for underserved teams, etc. )
Current state of the operations team:
Kempsterrr and RyanCoordinator have been working full-time in operations roles for the DAO and will be the first co-leads of the official D_D Ops team. The DAO and its operational needs are under active development and evolution. Many roles and teams will need to be started and nurtured in order to execute on Ops team responsibilities, and the landscape will change drastically as the DAO grows through Season 1. This plan for the Ops team takes on and makes explicit the tasks and responsibilities the original core team has been taking on by default, and the formal creation of this Ops team follows our ratified Season 0 roadmap. The Ops team expects to issue a revised scope and plan at the beginning of D_D Season 2 to report to the community and refine our operational posture. We will also be in constant contact with our members to ensure their needs are being met.
Developer DAO has been working with our partner Gitcoin to advance the structure of our DAO and they have committed $GTC for the purpose of setting foundations, funding our operations, and retaining operational staff. We will be following through with this while we work towards the release of D_D's $CODE governance token and $CODE denominated budgets for guilds and initiatives.
The process of evolving the DAO structure includes redefining the role of the 'core team', from now on referred to as the 'founding team', and the official establishment of the Ops team is an important step towards delegating previous founding team duties to official DAO organs. The founding team will not be leaving us, and continue to be vitally important members of our community, and will not be abandoning their responsibilities as signers on the treasury mutli-sig. Having a strong equality between guild leaders and founding team is a limiting factor to the growth of our guilds and community that we are now outgrowing and moving beyond.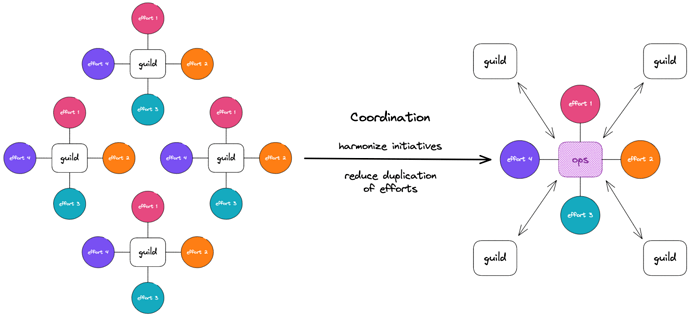 In summary:
Following through on Developer DAO's Season 0 roadmap and setting us up for success requires a dedicated full-time operations staff with an explicit mandate. Please vote to YES to formally recognize and empower our already working full-time staff, and support them so they can support our DAO. Voting YES on this proposal is voting YES on moving Developer DAO forward.
---
The text above will become a formal proposal after we get more comments. Please show your support in the comments here in this thread below, and this proposal will be elevated to a vote which will also need your support soon!