What the idea is
Create an extension of NFT contract that can be easily integrated with a physical word check to allow the owner of the NFT token to be a valid subject to access a physical good/service.
The contract will register on-chain the use/redemption of the service, and can be used for
One time access (ex. concert tickets)
Seasonal access (ex. football pass)
Recurring access (ex. Gym, club) etc…
…
The basic idea can be enrich with an in contract list of functionalities like:
Max # usages in a given period of time
Max # resales in a given period of time
List of allowed sub-services by current holder of ticket
…
Why the Champions think the idea is important
The use of NFTs to control access to digital goods/services is wide extended, but there is still a need to facilitate and easy the adoption of NFTs to control access to physical goods/services
How the Champions believe the idea should be executed
I think this concept can be implemented extending an ERC721 with the following functionality:
add/remove-gatekeeper(addr) . This function will maintain an on-chain list of valid addresses for gatekeepers(human or machine) that will be allowed the consumption of a service(ex. allow the entrance to the concert). This can be a human acting as gatekeeper using an app in his/her phone, or can be extended to a scanner-enabled entrance machine.

Consume-service (id, signature) Check if the service can be consumed, register consumption and/or invalidate.
A front-end app will facilitate the interaction with the contract for each agent, displaying a QR with the nft token#, facilitate the signature, call the contract the contract to validate access, display results.
The process can be summarized like this: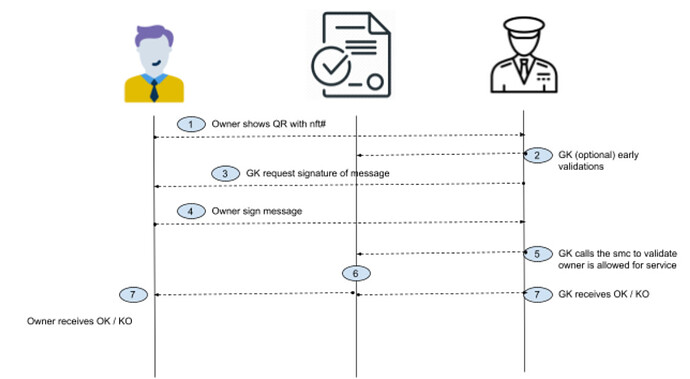 Owner of NFT, using the FE app, shows a QR code with the details of the NFT token.

Gatekeeper, using the FE app, scans the QR code, get contract addr, token# and can perform some early validations. This is optional as full validations will be performed on (6).

Gatekeeper creates a message with service + timestamp and sends it to the owner to be signed.

Owner sign the message received, and send the signature back to gatekeeper

Gatekeeper receives signature and interact with smc to validate/register consumption of the service

NFT contract will validate:

Caller address is an authorized gatekeeper validator
Signature is a valid signature by nft holder
Timestamp in message is current (within tolerance)
Service requested is allowed for requested token (not yet consumed, etc…)
Register consumption of service on-chain

Event with output of (6) is presented to owner/gatekeeper to allow/deny the service (green/red light)
This process involves on-chain status registration, so should be implemented on an L2 or low gas fee network.