RFC written in collaboration with @Tao and @Alex1237
TLDR; Check out this video and let us know your thoughts!
What
A suite of translation tools that facilitate and incentivize the community to create high-quality, localized text resources in Web3.0.
Why
The DAO has a large, rapidly increasing number of wiki pages, forum posts, documents etc which are written in English. To be truly inclusive, we should translate all these resources into multiple languages accurately and on time.
The current translation process is largely manual and not scalable:

So far we only have translations for newsletters. The current process involves downloading the English doc, uploading to DeepL, copying the machine translated doc to Google docs then applying manual corrections, then finally post the doc link to newsletter

The current way relies on volunteer work which does not provide enough incentive for the general community to participate in and produce high-quality translations
This could be a tool provided by D_D for other DAOs as well.
If we could get the economics right, the tool could even generate income for the DAO and everyone who works on the translations.
If we build it smartly, it may become a public good, widely used by other DAOs or individuals.
How
Stack: Browser extension + Firestore + DeepL + Arweave
See below for a demo of a quick proof-of-concept.
Demo video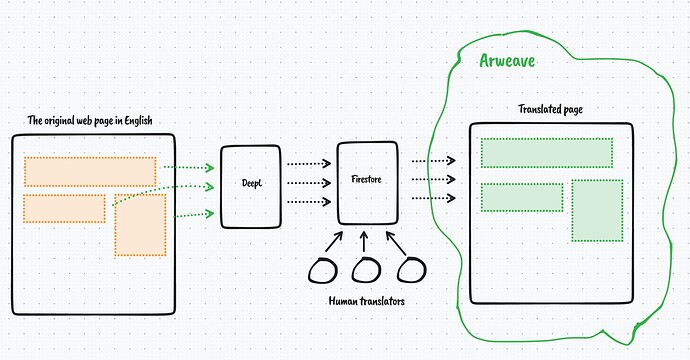 Operational cost
Future projects / ideas
Discord bots: translate Discord messages real-time-ish
Translation of images
Areas where we specifically look for feedback
How to incentivize individual translators? Not sure how this would work, but it'd be nice to be able to record individual contributions and reward participants with tokens or something.

From Tao: My personal idea regarding the incentive for translation.

In the Arweave ecosystem, Atomic NFT makes it possible to sign and own pieces of the public decentralized data. The translated article which is archived in AR is also one type of atomic NFT. Koii is the attention leaderboard; the creator will earn attention rewards any time a user clicks on Atomic NFT. Based on that logic, the translators did all the work and cost to translate the article and save it in Arweave as Atomic NFT, the more users click/read the article, they will get a reward token (It might not be much in dollar value, but in a decentralized and crypto way) Yield Farming for NFTs | Koii

How do we ensure the accuracy of the translations? We could implement an upvote/downvote system but it sounds tricky if a single article is being worked on collaboratively by multiple translators.

From Alex1237:

A magic idea. We divide the firestore document into several pieces(Firesotre items), attached to a smart contract. Before starting a correction, a translator needs to stake a small amount of tokens for a week. Every time when starting and finishing a correction, he/she signs as a mark. In the next 7 days, anyone can report mistakes, like missing and messy, to local moderators. Once misbehaviours are confirmed, a penalty will be done. If everything is fine, the contract releases the stake and grants a reward to the translator.
Prerequisites: Moderators should be fair-minded and familiar with English translations. A webpage for staking and unstaking CODE should be deployed.
Issues: How to link firestore with a smart contract? How to prevent others from messing up your translation?
A graph showing my naive idea