Budget Proposal: DevNTell
Authors: [Narb | 2669#5172]
Supporting Budget Steward(s): @kempsterrrr @colin4ward
Summary
This budget proposal seeks to compensate current and future contributors to the DevNTell series to ensure the platform continued growth and success.
Motivation
The DevNTell series is one of the most consistent and successful efforts of the Developer Guild (and DAO) since its inception in December of 2021. It's become a weekly staple in the Developer DAO community and in some cases the first big platform for many members to showcase their work. The platform has also had the pleasure of hosting company representatives and high profile individuals looking to market and/or highlight their product such as The Graph, tea.xyz, and Ceramic Network just to name a few.
The DevNTell playlist garners the second highest volume of views on the Developer DAO YouTube channel only rivalled by the web3con recording series.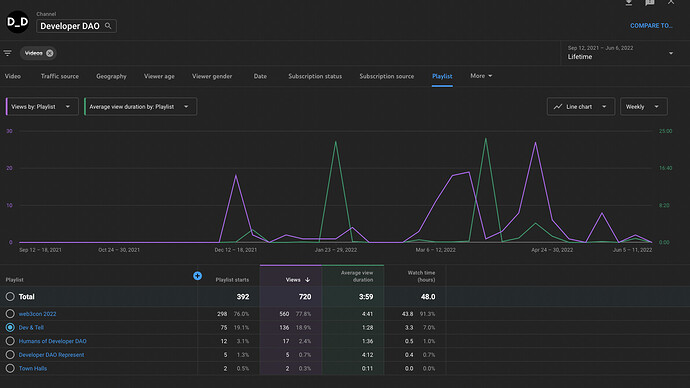 Mission, values and goals alignment
DevNTell is a 30-minute window for members of the DAO to showcase something they are passionate about or have been working on. This could be an awesome project you've been working on, demonstrating unit-testing best practices, automation goodies, smart contracts, how to structure a project, etc… Basically, if you've got a passion for something, this is your opportunity to share it with the community.
The series began as a community oriented effort to allow those without a voice on social media to be able to showcase their work to an audience and often served as the first real "big stage" for many folks to practise their pitches. DevNTell will always continue to be community first as that is the bread and butter that has made it successful. Our members are what makes us Developer DAO and they should have a stage to show the web3 community their excellence.
Brand usage
The DevNTell recordings are posted under the Developer DAO YouTube account; however, this can be expanded to other platforms too (i.e Spotify)
Scope of work
DevNTell has largely sat on my (Narb) shoulders since the beginning with me taking charge of finding speakers, hosting/recording/uploading almost all talks and creating/distributing POAPs to all attendees. This is not sustainable for the long haul assuming the platform grows like I envision it will as well as in the volunteer basis that it's running on now. The DevNTell series has the potential to be the prominent Developer talk/showcase platform in all of web3 with an outreach that can span the entire industry.
Potential expansions of the platform include:
Creating a podcast series that sits side by side the YouTube upload
Introducing ad reads for sponsors
Special sponsorship DevNTell bookings
Creating an official website for hosting and booking sessions

Potential bounties for this could include (but not limited to):

Creating the capability to upload videos to a decentralized storage solution (Arweave, Filecoin, Livepeer)
Adding a social component (i.e. lens protocol)
Creating a booking page for people to sign up for sessions

Web3 conference panels and "special event" DevNTells
Expanding to holding more then once a week sessions
Financial implications
In it's current format DevNTell has the following work structure:
Booking event, creating POAPs, creating distribution method for POAPs: 1 hour
Recording/hosting series: 0.5 hours
Editing/uploading content to YouTube and posting on social: 0.5 - 1 hour
But if we start implementing some of the bigger expansions mentioned in the prior section, then these numbers will start to ballon.
Budget breakdown
In this budget request, the DevNTell platform is looking for the "standard" 15 $CODE/hour allocation
Scenario 1
No changes to current DevNTell format
Role:
1 person who hosts/books/uploads DevNTell content
1 Person who hosts/books/uploads:
15 $CODE * 2hours contribution/week * 4weeks * 1 person = 120 $CODE per month
Scenario 2
Scenario 1 but also creating the official DevNTell website and looking to expand the DevNTell reach (i.e Spotify)
Assuming the following roles and time allocations
1 UX Designer at 10 hours/week
3 Developers at 10 hours/week
1 Product Manager at 10 hours/week
1 person who hosts/books/uploads DevNTell content and explores expanding the reach of the sessions at 4 hours/week
Following the above we get the resulting $CODE allocation
1 UX Designer:
15 $CODE * 10 hours contribution/week * 4 weeks * 1 person = 600 $CODE per month
3 Developers:
15 $CODE * 10 hours contribution/week * 4 weeks * 3 people = 1800 $CODE per month
1 Product Manager:
15 $CODE * 10 hours contribution/week * 4 weeks * 1 person = 600 $CODE per month
1 Person who hosts/books/uploads and explores expanding the reach of the sessions:
15 $CODE * 4 hours contribution/week * 4 weeks * 1 person = 240 $CODE per month
Total $CODE per month = 600 + 1800 + 600 + 240 = 3240 $CODE/month
Total $CODE per season 1 = 3240 * 3 months = 9720 $CODE
Team
At the moment this is the team:
Narb - all the things
Looking to contribute?
Depending on which scenario plays out above, there might be opportunities to contribute to the creation of the official DevNTell website creation; however, in either case there are also opportunities to host official DevNTell sessions if you're interested. DM Narb if you'd like to learn more.
Success Metrics & KPIs
Season one KPI's/OKR's
Expand subscriber count for the Developer DAO YouTube account 100% month over month
Expand DevNTell reach by uploading content to other popular platforms (i.e Spotify)
Next Steps
There won't be any impending changes to how DevNTell is structured at the moment; however, we can look to action on at least one of the potential items for expansion assuming there is adequate funding provided to this initiative.
Note:
In the case of a budget surplus, the excess $CODE can either go back to the treasury or be carried over to subsequent seasons
VOTE
Yes, I support this budget application
No, I do not support this budget appliaction