Authors: @Colin4ward
Supporting Budget Steward(s): @kempsterrrr @Narb
Summary
Probably Nothing is the DAO's weekly newsletter. This proposal seeks to compensate the newsletter team for their contributions in order to ensure the continued success and growth of the newsletter.
Motivation
PN is currently a Substack publication with ## issues at the time of posting. Issues average over 2000 readers and the subscriber base has grown consistently since Issue #0. The newsletter started as a way to keep members informed on happenings throughout and around the DAO; promoting projects and individual achievements of D_D members.
PN is now also an obligation to our sponsors. Banner ads and classifieds are included in Season 1 sponsorship packages. Sold individually, each issue accounts for $600-$1200 in sponsor funds. At an average of $800 and 50 issues a year that's $40,000 in revenues.
PN is publicly available, and every issue is shared on Twitter by @Developer_DAO, making it an asset for promoting D_D to potential new members. The summary nature of PN also facilitates onboarding for recent DAO entrants looking to get up to speed.
Mission, values, and goals alignment
Our primary goal is keeping all members of D_D informed about developments across the DAO and empowering them to participate in DAO happenings (e.g. open votes; IRL events), contribute to ongoing projects, and make full utilization of the benefits available to D_D members (e.g. travel funds).
Secondarily, we are a public outlet and aim to help those considering membership in the DAO take the leap of joining our organization. A steady stream of new members will help D_D fulfill it's mission of onboarding the next generation of Web3 talent, by bringing in those eager to learn, and also persons interested in contributing to DAO initiatives.
Additionally, the newsletter is an avenue for giving our partners access to the D_D audience, and helps raise funds for D_D.
Brand Usage
Probably Nothing is published by and for D_D under the Developer DAO substack.
Scope of Work
PN is published by a team of D_D members, with most regular contributors participating in every issue. The scope and format of each issue can be reviewed here: https://developerdao.substack.com/
Current Team and weekly commitments:
Colin4ward, Editor - 5 hours
Paulie, Guild News - 5 hours
Sylksie, Projects+DAO News / meme curator, 2 hours
bobby, ecosystem news and community highlights, 1 hour
Alex1237, Chinese translations and news contributor, 1 hour
Other occasional contributors and translators - 30 min each
Financial Implications
This proposal aims to recognize the contributions listed above with $CODE according to the hourly contributions of each teammate. This cost will be at least partially offset by the revenue generated by Newsletter sponsorships and paid job listings.
Total requested $CODE Budget = 3,600 $CODE
Team
See above
Drawbacks
(including this from earlier templates even though it's not in the new template
The current newsletter team developed organically, with regular contributors settling into their roles over time. A seasonal budget may reduce opportunities for new contributors to work in to the publishing routine mid-season. This could possibly be mitigated with a small fund for irregular contributors, or by redirecting $CODE to alternates who fill in when regular contributors are not available.
This does not account for time spent securing sponsorship for the newsletter. That work is primarily conducted by Colin4ward and other members of the MBD Guild, outside the scope of this proposal.
Success Metrics and KPIs
Subscribers - Our publication has seen a steady increase in subscriber rates. We should expect that as we saturate our "TAM" (mainly D_D members) that increase would level off, but also that as the membership grows with the release of the $CODE that we see our subscriber base keep pace.
Historical performance: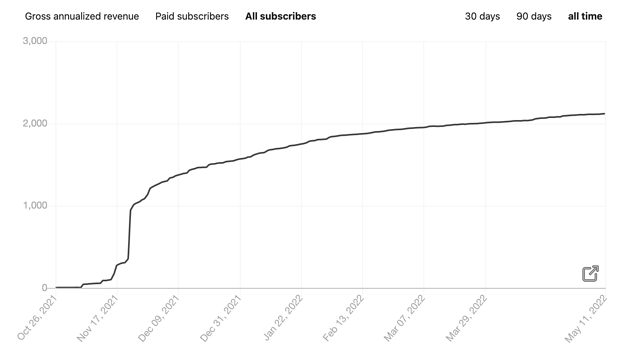 Open Rates - Measure the ongoing relevance of the content in Probably Nothing to our subscribers.
Historical Performance: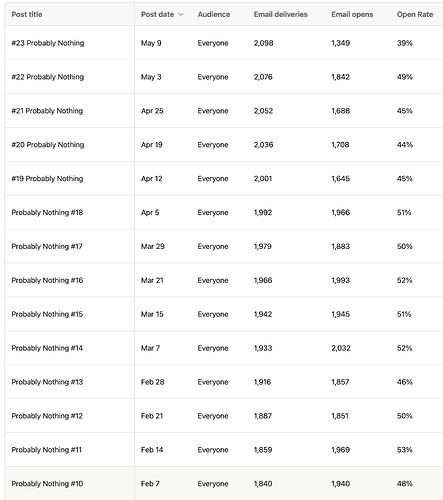 Click-through rate - Probably Nothing issues average ~13% clickthrough rate. This measures the relevancy of our content but also the value of sponsorships per issue.
Next Steps
There will not be any radical changes to the publishing team's process should this proposal get funded, however, we believe that this proposal is essential to ensuring the retention of the current team, and recruiting new writers and translators to keep pace with the growth of D_D.
VOTE
Yes, I support this budget application
No, I do not support this budget application